Do you know what French cuisine is famous and revered for? The French have perfected the art of making divine sauces and got well-deserved praise for that. Why? Because a sauce can make and 'break' the dish, its importance is impossible to overrate. That's why I want to tell you about the sauce today. It is a very special one. It is a lemon tahini sauce.
We've chosen the lemon tahini sauce (or dressing, it can be called both ways) recipe because it presents an amazing combination of simple ingredients with the complexity and richness of flavors.
And also because the recipe gives you, as a home cook, great opportunities to use your creative imagination and skills and make countless variations of the sauce with excellent results.
Of course, you can buy tahini lemon sauce from Cava at Whole Foods. It's good, but nothing compares to homemade sauce prepared with love and creativity.
Let us take you on the culinary journey with us. You'll fall in love with lemon herb tahini dressing. I am sure.
Authenticity or creativity?
Lemon herb tahini dressing, the classical version
The lemon herb sauce recipe originates from the Middle East because tahini, the major ingredient of the sauce recipe, comes from that region.
You probably know that tahini is the main part of the world-famous hummus.
We aren't giving you a copycat recipe. It's a classic one. So, you can't call it a copycat recipe.
The lemon herb tahini sauce recipe contains really healthy ingredients that can and should be included in the diet plan if a person doesn't have any adverse health conditions.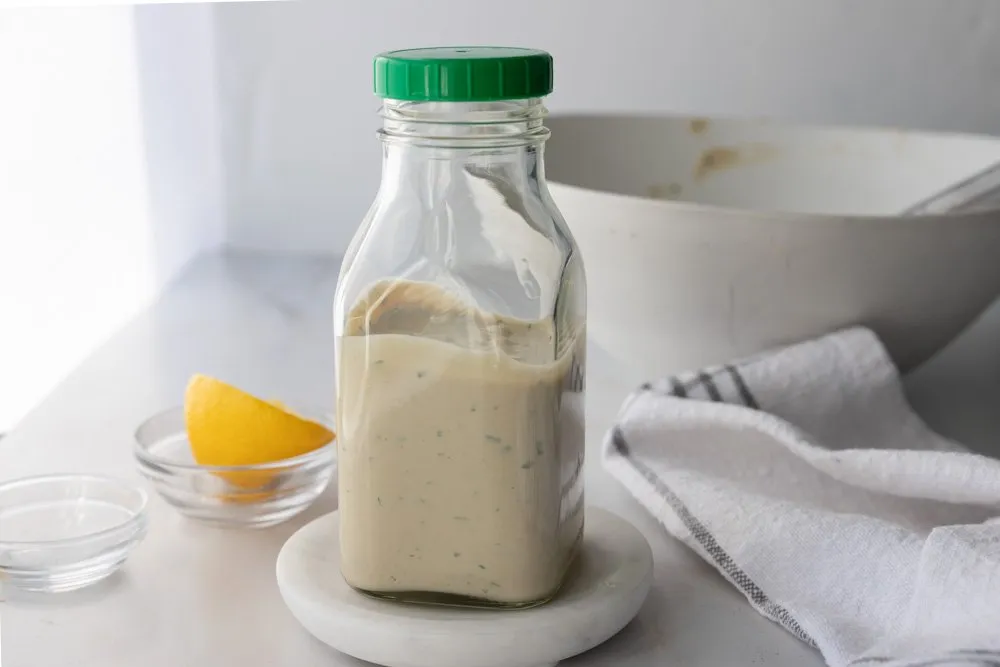 The ingredients
We suggest looking at the main ingredients of the lemon herb tahini sauce recipe.
Sesame
Tahini is made of sesame seeds, crushed in a food processor with olive oil and a dash of salt. It has a light sesame seed aroma and a rich and smooth taste.
Cilantro
Cilantro is a very healthy herb, and its flavor is exquisite. Cilantro is very fresh, peppery, and a little citrus-like.
Garlic
Garlic is another Superfood here: tangy, spicy, and full of flavor. A worthy addition to the other components.
Lemon juice
Apart from adding a unique flavor to any dish, lemon juice is very good for your health too.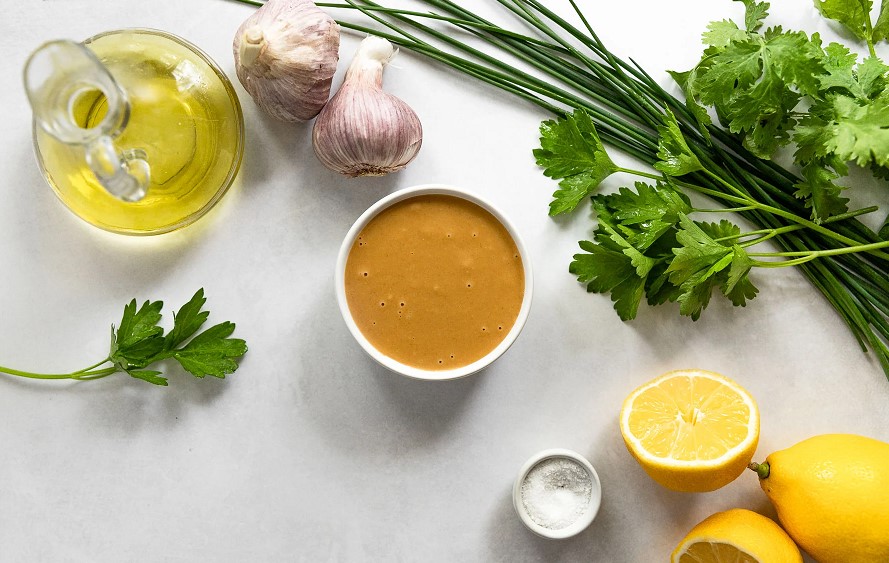 Lemon herb tahini sauce: the recipe
To prepare lemon herb tahini sauce, you'll need a food processor or a blender. I prefer a food processor because I like a little crunch in the texture.
Here's a classic version, and I recommend making it once at least.
Then, you can change the ratio to your taste as much as you like.
Cilantro — 1.5 cups
Sesame — 1 cup
Lemon juice — 0.5 cup
Cold water — 4-8 Tbsp
Salt —0.5 tsp
Fresh garlic — 2-4 cloves
In some recipes, you'll find olive oil among the ingredients. You can add it, of course. I don't do it in this recipe.
Start by putting the fresh herbs in the food processor.
Add garlic, salt, and lemon juice. Let the food processor chop the simple ingredients, but not too much.
Add sesame and blend some more.
Now it's time to add water. Do it gradually until you get the desired texture.
Tastes differ, and some people prefer a really creamy sauce, while others like a little crunch. And don't forget to check the salt.
Serve immediately or store in an air-tight container in the fridge.
Important: this recipe is gluten-free, the calorie amount consumed — is very modest (nutrition serving 1 ~ 150 kcal), version Mediterranean prep time is 7-8 minutes.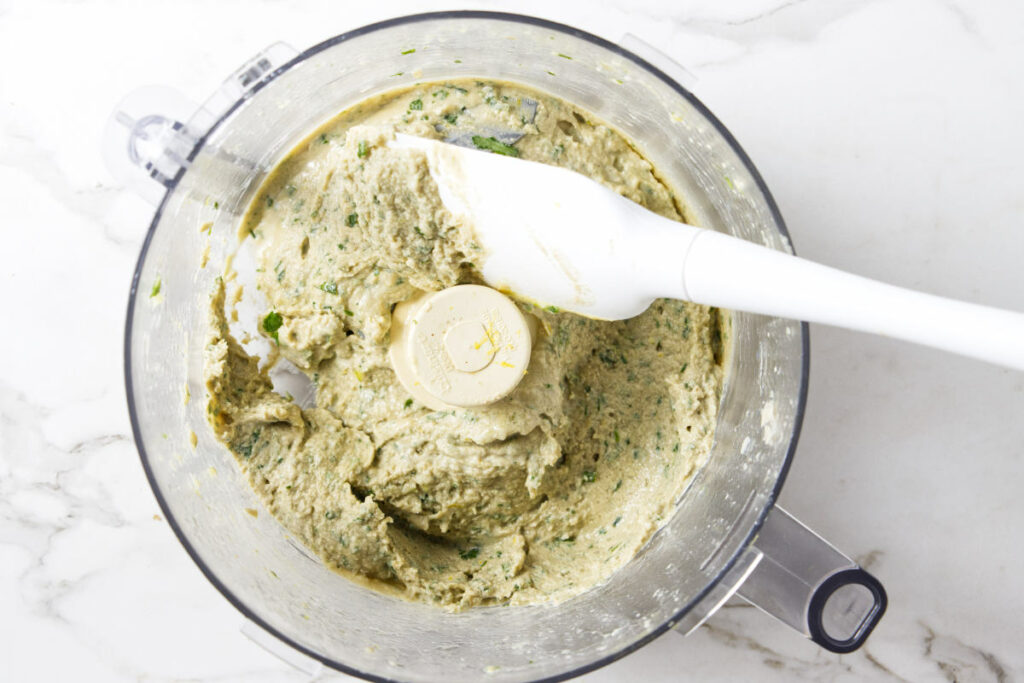 Let's get creative
We love lemon herb tahini sauce for its versatility, and because it helps exercise our creativity. I can do so much here. Let us show you.
Some like it hot
The classic recipe is designed for people with an average tolerance to spices. But some of us enjoy this burning sensation in the mouth. Let's indulge.
For a lemon herb tahini 'hot version' recipe, I suggest adding a fresh chili or jalapeno pepper. A Mexican touch to the Middle Eastern delight.
Playing with aromas
Cilantro has a very specific flavor. If you're not a fan, try parsley instead. If you don't like parsley, how about basil? Or any fresh herbs you like?
Try them as single ingredients or as a potpourri of various aromas.
Find your taste and create your unique recipe. I love a mix of parsley and cilantro.
Going for tangy and sour
Lemon has a strong flavor, but lots of folks love it, and lemon zest can be an excellent solution to add sharpness without going overboard. Lemon zest has a milder flavor than lemon juice, and the texture will give nuance to the sauce.
For those with a sweet tooth
Tahini can seem sharp to some of us. To neutralize the sharpness, I add sugar. But if I want a sweet note in our lemon herb tahini sauce recipe, I add a little more sugar until the taste is exactly to our liking. But don't skip the salt.
Without it, the sauce will be bland.
We know people who experimented with the honey and maple syrup for an extra sweet note, and it turned out great. You are welcome to try it as well.
Final thoughts
How can you use the lemon herb tahini sauce? There's such a wide choice. Try tahini as a salad dressing for various Mediterranean salads. Use tahini as a dip, and you can dip carrot sticks, celery, or other veggies, as well as bread sticks, crackers, or nachos.
Tahini is a great sauce for roast chicken too.
Lemon herb tahini sauce can stay fresh in an airtight container in the fridge for a couple of weeks. Although, it can disappear from the airtight container much faster. Because it's that good.
Try the classic tahini recipe, then let your imagination fly and create your masterpiece. Good luck!
Frequently asked questions
What is in lemon herb tahini at Cava?
Lemon herb tahini has a fresh (because of cilantro or parsley), citrus (lemon zest and juice), tangy, and spicy (garlic) flavor and is amazing as a salad dressing. There's olive oil, salt, and water as well. Tahini lemon sauce is gluten-free.
What does tahini taste like?
Tahini has a mild taste of sesame seeds, its key ingredient. The taste is rich and a little nutty.
How many calories are in lemon tahini dressing?
Approximately 150 kcal per serving, but the exact amount will vary depending on the ingredient ratio.
Read More: Homemade Lemon Herb Tahini Dressing