Thyme is a very useful and tasty ingredient that you can use in a big amount of dishes. But sometimes when you cook in a hurry and suddenly realize that you do not have a thyme, you need to get a substitute. In this kind of situation, it is essential to know what kind of substitute will be suitable. You definitely should try to find them.
If you are one who looks for substitutes, then this article was written for you.
Thyme: what is it?
Thyme is a fragrant herb, an aromatic herb, one of the mint family. The herb is from the Mediterranean region. There are orange thyme and caraway thyme. The herb is with small leaves, and they grow on clusters of thin stems. So, accordingly, thyme has a fresh aroma and a very good taste, which makes the dishes more flavorful. Fresh thyme will be fresh for several weeks if you leave them in a fridge. And the taste will be the same in cooked dishes.
How can we use it?
This herb can be used to season savory dishes, and this is quite common. You can use thyme alongside other herbs or even alone, the taste will be still good.
But if you are intended to mix it with other herbs very much, then you should use it with rosemary, sage, parsley, black pepper, garlic powder, and oregano.
It also makes a good pair with herbs, like nutmeg, lavender, and other sweet spices.
This herb is used in a lot of cuisines, like Latin American, Central American, Mediterranean, African, and European cuisine.
What dishes are good with thyme?
You can especially use the herb in savory dishes, which include vegetables, meat, cheese, and certain seafood. You can cook soups, savory sauces, broths, and stews with it. Thyme also holds up well in the heat, so this herb is perfect with heated dishes.
Thyme is a herb that is perfectly useful as a fresh herb or a dried herb. But what is the difference? Let's take a closer look.
When should you use fresh thyme and when dried thyme?
Usually, you can use dried thyme and fresh thyme interchangeably in cooking because there is no big difference in the taste of the herb. The difference is in how you use it.
Dried thyme
The thing is that when you want to get the most flavor of the dried herb, you need to add thyme with some moisture. It is so because it helps to rehydrate thyme and activate its flavor.
This is why rehydrating dried thyme is often used in dishes that include water, sauce, or broth, which helps to activate the dried thyme. Dried herbs are also easy to store.
Fresh thyme
When it comes to cooking with fresh leaves of the fresh herb, you should chop them up or add the whole leaves to your dish. You can use the stems of the fresh thyme in a soup or in a sauce that needs to simmer. You can remove them easily if you want to. This fresh herb tastes very good.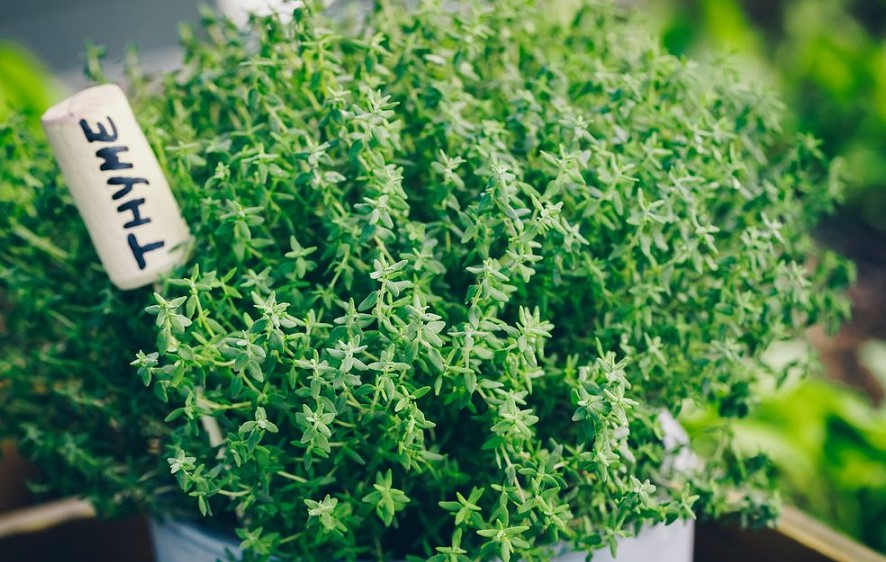 How should you store fresh thyme?
If you want to have a lot of fresh herbs, you should also know how to store it. You should pick it up and then rinse it. Then you should let thyme air dry. After that, store it loosely wrapped in a damp paper towel, and inside of a container. If you do this, then your fresh thyme will be saved for two weeks.
Why is thyme so handy in cooking?
Thyme is one of the seasonings. That means that this aromatic herb is often used to make a distinct flavor in a dish. That also means that if you do not add thyme or its substitute when this herb is essential, you will probably get a bland-tasting dish.
So, this is why thyme and ist substitutes are so important in cooking, they make your dish flavorful.
It is easy to use thyme and saves its fresh aroma. If you use fresh thyme, you should just remove all leaves from the stems and then chop them.
It is good in dishes since it helps to release all the oils of the herb, which will flavor the dish.
Thyme: a taste of a herb
It is important to note to those who are beginners in cooking, that the taste of thyme is earthy and bitter flavor, even more than common mint, it has also a little bit of lemon thyme taste. Many people who tasted this herb noticed that the flavor reminds them of grass, and wood, it has even floral notes.
By the way, it has also notes of mint and lemon, a slight citrus flavor.
You probably know the taste of the herb too, because thyme is used very often in cooking. But it is important to taste it before you cook dinner to know exactly what it is like for sure.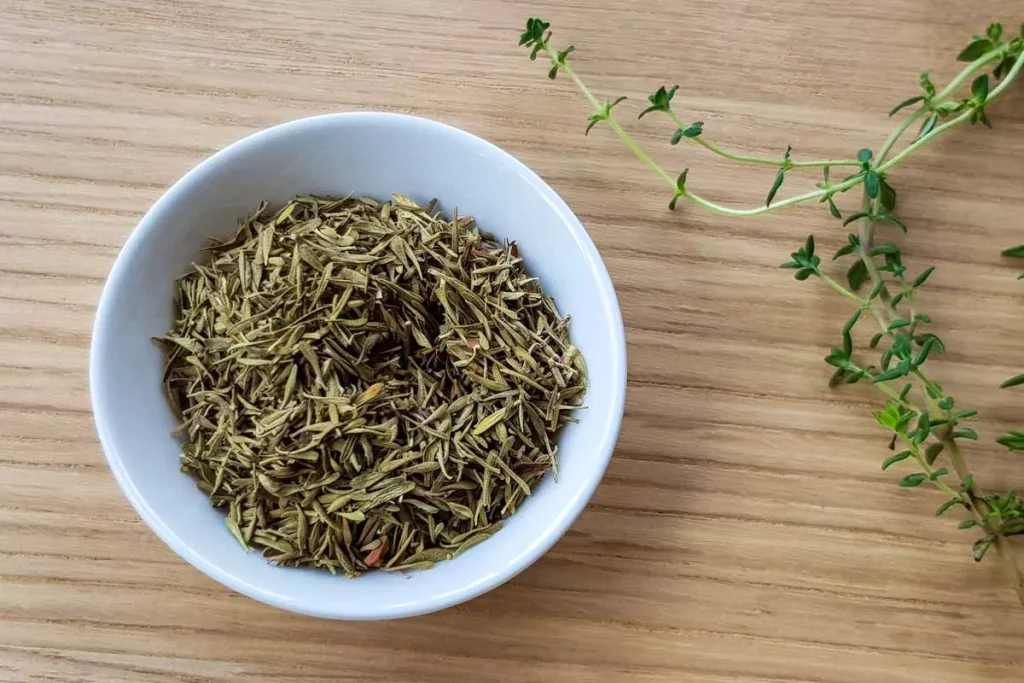 The thyme substitutes in savory cooking: what is the best?
There are several substitutes for thyme that are worth mentioning. But before we go to then, it's important to note one thing.
Not all substitutes are very versatile as thyme, so that, you need to be absolutely sure about what you have in your kitchen and what will suit your recipe the most, what will be the best complement that will not ruin your dish.
And you also need to know and identify what flavor element you want exactly so substitute. Follow the recipe carefully and do not use too much substitute for thyme if you do not want to change the entire flavor of the dish.
Oregano
Oregano is one of the best-known herbs and the best thyme substitute, both fresh oregano, and dried oregano. It is also a part of the mint family. It is so because oregano has probably one of the closest flavor profiles to thyme. It has minty, lemony, and earthy notes, as well as thyme. But the overall taste of fresh oregano is a little stronger than that of thyme.
Speaking about proportions for fresh and dried oregano, you can easily use a 1:1 swap for either of these. Dried oregano is good for substitute dried thyme.
Oregano is best as a substitute for thyme, especially, if you use it with some Italian dishes, like meat dishes, pasta, or tomato-based recipes.
This herb makes great pairs with other herbs and spices.
If you want to use dried oregano to replace fresh thyme then you should use half the amount of it, the same is for fresh oregano.
Marjoram
Well, this herb is versatile, and it is great for adding extra flavor, especially to the spice cabinet. It is good to substitute thyme, both fresh marjoram, and dried marjoram.
Marjoram has a woodsy, minty, and floral aroma, which may remind you of thyme and oregano, but it is a bit sweeter. It is perfect in dishes, like meat dishes and vegetable dishes, and it is also perfect for soups.
You should use a 1:1 swap if you use fresh for fresh and dried for dried.
But if you use dried marjoram as a substitute for fresh thyme, then you should use half the amount.
And if you use fresh marjoram as a substitute for dried thyme, then you should use double what the recipe calls for. Fresh marjoram is actually very close to thyme.
Rosemary
Rosemary is a flavorful and versatile herb with a very distinct flavor. You should use it with potatoes and chicken, savory bread and salads, especially, it will taste brilliant.
As you can see, it is also a good thyme substitute.
Speaking about proportions, you should use fresh or dried rosemary as a substitute for fresh and dried thyme in a 1:1 swap.
Fresh parsley
Parsley is a herb that is easily less earthy than thyme in taste and has generally a bit brighter taste. You can especially use fresh parsley if you want to get a substitute for fresh thyme in a cold dish. It is a good herb in the dishes that is cream-based dishes and salads. It is also good with fish and meat.
You can say that as an entire thyme substitute, this herb is not so good, but it works well in paired with another ingredient, like marjoram.
The proportion is a 1:1 ratio.
Sage
Sage is a herb that can be a good thyme substitute since it has the same earthy taste. But it should be noted that sage also has a very distinct flavor of its own, so if you do not use it in the correct proportions then the taste of the dish may be completely changed.
It is strongly recommended to use it as a thyme substitute in a dish that has several other seasonings.
Basil
Basil, especially fresh basil, is a great substitute for thyme. It has a bright flavor profile and it can be a good addition to a big amount of dishes. Also, you can say that there is a licorice-like taste in basil, and this taste may change the flavor of your dish if you use it as a substitute and don't follow proportions. It is a really good herb to substitute thyme. Try it in your dishes and you will see the result.
You should use half the amount of fresh basil as a substitute for fresh thyme.
You should put dried basil for dried thyme in a 1:1 ratio.
Savory
Savory is a herb that has a milder overall flavor profile if you compare it to thyme, but the earthy and peppery taste will cover it with a great flavor. This herb works especially well in Mediterranean dishes. It is also known as Summer savory.
You should use Summer savory in 1:1 swap as a substitution.
Tarragon
Tarragon is a herb, that is used mostly in French cuisine. Tarragon has a flavor that is very close to thyme but it is a little bit milder. It is a bit more bitter than thyme and a bit sweeter. But it has almost the same mint-like taste and the slight anise flavor, as thyme. You can use it as an addition to dishes with chicken and fish, sauces, and stews.
If you use tarragon as a substitute, you should add it in a 1:1 ratio. You absolutely should add it in small quantities from the beginning and do not forget to taste it and make sure that the herb is perfect for your dish as a substitute.
Herbs de Provence
Herbs de Provence is not a single herb, but it has many herbs in different quantities. Herbs de Provence is a spice blend, which includes rosemary, basil, lavender, and thyme. Herbs de Provence makes a very good substitute for thyme, but because of a lot of herbs, it probably will not be the same delicate taste as thyme, unfortunately.
Herbes de Provence herbs are in addition to dishes that include chicken and fish.
The proportion is a 1:1 ratio to Herbes de Provence.
Italian seasoning
Italian seasoning includes a lot of herbs as well as Herbs de Provence. There are oregano, thyme, rosemary, dried basil, bay leaf, tarragon, and lavender in Italian seasoning. Italian seasoning makes a great substitute for thyme. This blend works perfectly with Italian dishes, and Mediterranean cuisine, and even works well on grilled meats. It is also important to note that the overall taste of a blend will be sweeter than just thyme, because of the basil. Keep it in mind while cooking with Italian seasoning.
You can use Italian seasoning as a substitute for dry thyme in a 1:1 ratio. But it is much better to start with less, because of the flavor of many herbs, so you definitely need to identify if it is good for your dish or not.
Poultry seasoning
Poultry seasoning has a lot of herbs and unique ingredients, it has a spice cabinet. For instance, it is salt, nutmeg, and black pepper. Poultry seasoning is a spice blend that is intense in flavor. You absolutely should use it with dishes that include chicken especially.
This blend should be used with half the amount of what the recipe calls for. But you definitely should start with a small quantity, taste it and then decide, if you should or shouldn't add it.
Za'atar
Za'atar is an ultra-fragrant spice blend where thyme is a key ingredient, and the rest is lemony sumac, sesame seeds, and marjoram. Sesame seeds make a good aroma.
You should use it as a substitute and start with half the amount the recipe calls for. This blend will give your dishes a very good taste.
Substitutes in baking and cocktails
If you are looking for a substitute for thyme in baking and cocktails, there are several for you.
But you should keep in mind that fresh herbs are for cocktails and dried herbs are good for baking.
So, here are substitutes: marjoram, rosemary, and basil. You will get as good cocktails and bread with them, as with thyme.
Frequently Asked Questions
What spice is closest to thyme?
There are a lot of good spice substitutes. But oregano is a spice that is closest to thyme, because of its flavor. It is the best substitute for thyme. You can replace thyme with it easily.
Can you leave thyme out of a recipe?
Actually, it is not recommended because thyme has a fresh and strong aroma which flavors your dish the most. If you leave thyme out of the recipe, your dish will be tasted completely differently. So, you definitely better find substitutes. 
In conclusion: you can find the best substitute for thyme
Thyme is a very good and tasty herb that gives your dish a minty, lemony, earthy aroma, giving your dish a distinct flavor. However, if you can't find fresh thyme or dried thyme, you can easily use substitutes. There are a lot of thyme substitutes and you can use the one which suits your interests the most. The flavor will be almost the same if you choose correctly and put the right proportions. You can easily find your favorite thyme substitutes and enjoy cooking.